Bandwidth:

High

Low
< >

Share:

Now Playing

---

Ted Kotcheff, Executive Producer of LAW & ORDER: SVU

Mar 07, 2010


TED KOTCHEFF, EXECUTIVE PRODUCER, LAW & ORDER: SVU

Ted Kotcheff was born William Theodore Kotcheff in Toronto, Canada in 1931. After graduating with a degree in English Literature, Kotcheff began his television career at the age of twenty-four when he joined the staff of the Canadian Broadcasting Corporation (CBC), with television still very much in its infancy in the country. Kotcheff was the youngest director on the staff of the CBC, where he worked for two years on shows such as General Motors Theatre, before leaving Canada in 1958 to live and work in the United Kingdom.

Kotcheff was inspired by his compatriot Sydney Newman, who had been the Director of Drama at the CBC and had moved across to the UK to take up a similar position at ABC Television. At ABC, Newman produced the popular Armchair Theatre anthology drama program, where he employed Kotcheff as a director of the series.

Kotcheff was responsible for helming some of the best-remembered installments of Armchair Theatre strand, and in 1962 made his first feature film, TIARA TAHITI (New York Times Review). He went on to direct other features during the decade, including LIFE AT THE TOP (1965) and TWO GENTLEMEN SHARING (1969).

In 1971, he directed the classic Australian film WAKE IN FRIGHT, which won much critical acclaim in Europe, and was Australia's entry at the Cannes Film Festival where it was nominated for the Golden Palm Award.

(In 2009, WAKE IN FRIGHT was re-released on DVD and Blu-ray disc in a fully-restored version.)

Later in 1971, Kotcheff returned to television, directing Play For Today: Edna, the Inebriate Woman for the BBC, which won him the BAFTA Award for Best Drama Program. In 2000, the program was voted one of the 100 Greatest British Television Programmes of the 20th century in a poll of industry professionals conducted by the British Film Institute (BFI).

In the 1970s and 1980s, Kotcheff directed various iconic films including FIRST BLOOD with Sylvester Stallone, WEEKEND AT BERNIES and UNCOMMON VALOR with Gene Hackman. In the 1990s he returned to television and has served as the Executive Producer of NBC's wildly successful series Law & Order: Special Victims Unit (Official Site) since 1999.
Interview Discussion
---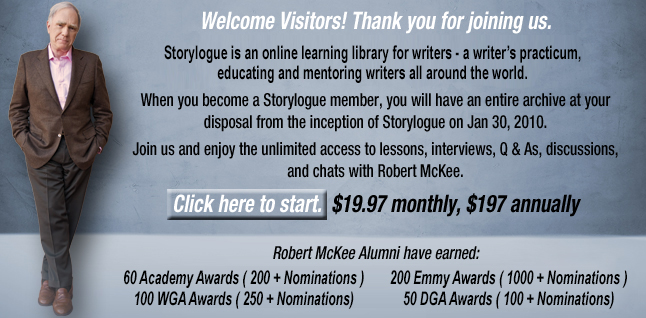 When you sign up for Storylogue, you will also enjoy: